There's a secret tactic to get all builders in Clash of Clans fast! 😉
I'm playing the game for more than 4 years. However, recently I discovered a quick and easy way to get all the builders for free. It's my new account on which I'm trying this strategy.
Basically, this involves how to gather gems fast so you can buy the 5th Builder's Hut. This strategy just got even easier with the introduction of Clan Games.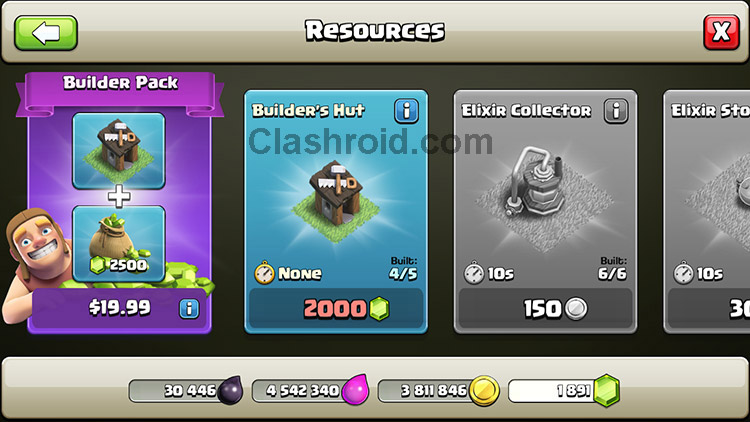 Not many people know how to get gems fast and for free. Before I continue, I would like to tell you, this isn't about some gift cards or completing offers. I'll show you how you can save up gems. 😛
Want some serious Clash of Clans fun? Try out our mod for Android and also the other private servers.
Clash of Clans Builder's Hut
Before we get started, let's see how the Builder's Hut works? It's simple. You already get two builders out of five and you need to buy the other three.
Here's the pricing:
3rd Builder – 500 Gems.
4th Builder – 1000 Gems.
5th Builder – 2000 Gems.
That's your five total builders. So you need a total of 3,500 gems to all your builders. You might think it's god-damn hard to gather so many gems without buying them. Well, my friend, you're wrong. 😉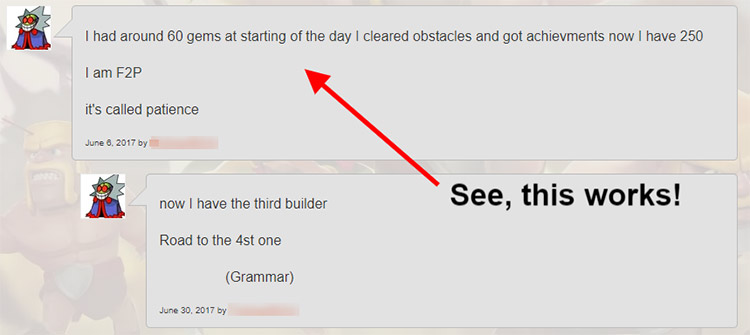 How to get all the builders?
So how do you exactly get this many gems, that too, pretty fast? It's easy as hell, let me show you some of the tactics I'm personally using. You can see the screenshot for yourself.
I need just 120 more gems to get my 5th Builder. 😛 Let me show you the exact step-by-step method I used to gather this many gems.
Tip 1: Don't Use Gems!
I can't stress myself enough but say this. Brother. Don't use gems for anything!
I know sometimes, it gets boring having to wait so long to finish upgrades. Well, hold back and wait. 🙁 Don't use your precious gems on finishing your upgrades, boosting your resource collectors or even boosting your training.
Whatever happens, promise yourself not use a single gem. This habit makes saving your gems so much easier. You will just see your numbers grow. 😉
So, you got the urge to use gems? DON'T! 😂
Tip 2: Remove All The Obstacles
When I started fresh, I had 250 gems in my account. I literally got another 250 gems and my 3rd Builder by just removing obstacles. 😛
This is one of fastest and easiest ways to get free gems in Clash of Clans. You just cut down a tree and you just received 5 gems, my brother! Haha! It's just dope.
It's like getting instant cashback. You spend your Elixir or Gold clearing out the forest and you get free-free gems. 😀 In fact, I also got over 200 gems for my 4th Builder just by clearing out my Builder's Base's bushes and trees.
Each obstacle will give you 1-6 gems or just XP. This method is undeniable and I can promise, you will gather enough gems to help you get your 3rd Builder.
Tip 3: Get Your Weekly Gem Box
Every week you'll receive a Gem Box which is a mysterious box which gives you 25 gems for free. 😛 Remember, you need to be active and remove it as soon as you find it so the next one can spawn.
You can have only one box at a time. So, if you don't remove it you won't receive your next Gem Box which means you're missing out your additional 25 gems.
I know 25 isn't a big number but if you keep saving, it really helps. 😉
There's a thing, COCLand mentioned, "Always make sure that it has enough space on your land to respawn."
Tip 4: Play Clan Games
This is one my best strategies for getting free stuff in Clash of Clans. Every week, you can get a minimum of 60 gems in rewards. 😀
So how do you play Clan Games? It's simple, join a clan and start playing Clan Games. It's like completing mini-achievements to gather points. I recommend joining an active clan because you can't alone reach the rewards.
Each member of the clan can earn up to 4000 points. 😉 Every clan member's points add up and you level up your rewards. So your clan needs to reach at least level 3 for the gems.
Reward level 1 – 20 Gems.
Reward level 3 – 40 Gems.
You can choose between which rewards you want, I always go for the gems and not Gold, Elixir or Dark Elixir. You can read my farming strategy where I show you how you can farm millions, even your storages will be full for those rewards. 😛
Tip 5: Complete Achievements
This is the fastest way to get your 5th Builder. Trust me. You can both earn gems and XPs which can help you level up faster. If you're trying to get your 5th Builder ASAP, this method is the way to go.
If you join the Crystal League, you'll receive 100 XP and 250 gems. Then, if you score 150 Stars from clan war attacks, you will earn 500 XP and 200 gems. The list just goes on. 😀
I'm going to be honest with you, I haven't completed any of the big achievements but I still have 1891 gems just by following the above 4 strategies.
Did you know? If you earned 3000 trophies in your Builder base, you would earn 1000 gems! Isn't it too good? 😛
Conclusion
Now, let me tell you. It's super easy to get your 5th Builder really fast. That's all the strategies I'm using and you can see a screenshot below – a random guy who tried and this works magic.
You don't need to buy gems or earn gift-cards, simply follow the 5 tips I shared with you and you will have your all your Builders in Clash of Clans in no time! 😀
Once you have the gems, you can just go ahead and get your 3rd, 4th and 5th Builders. You can see, these tips actually work, hehe. 😂
Found this helpful? Share this! Write your comments below if you have anything to say! 😉