Hear out the secret tactic to farm millions using the Clash of Clans Star Bonus farming strategy! 😉
Back in 2014, when I started playing the game, it was hard to farm but nowadays, you have lots of strategies to farm. Not many people use this tactic for getting free extra loot.
A few years ago, when the in-built Town Hall storage was introduced, this killed the famous "TH outside" bases. This is when you could keep your TH outside the base but later, now, you will be losing some of your collected resources.
In 2016, farming was revived by the new Star Bonus, Loot Cart, and Treasury. Using the Star Bonus strategy, you can easily farm some loot in your Treasury which is inside your Clan Castle. 😉
Want some serious Clash of Clans fun? Try out our mod for Android and also the other private servers.
Clash of Clans Star Bonus Farming
Before we get started, let's see how the Star Bonus works. There's a lot of confusion about when the bonus is available. Let's clear all that up.
Remember, this is not your League Bonus. Every 24 hours, you get the Star Bonus reward. For the reward, you need to earn a total of 5 stars to get the bonus. How much you receive depends on which league you're in. 😉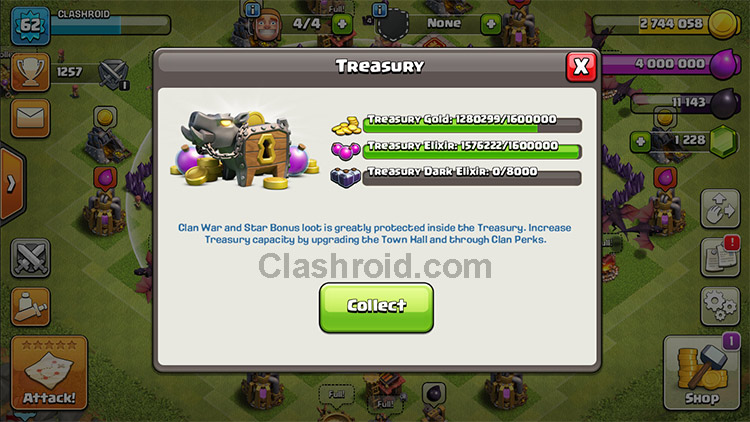 Many people confuse this – when does the Star Bonus even start? The answer is not the typical "12 AM".
Brace yourselves! Some serious theory incoming! 😛
The answer to this is different for everyone! How this works is simple, let me explain. This depends on at what time you first earned the Star Bonus reward. That's when the timing is calibrated.
Here's an example. If you first earned the reward at 3 PM. You will receive your next reward exactly at 3 PM the next day. Sounds good?
If you're still confused, you can check out Supercell's answer, here. 😉
How to farm using this strategy?
It's simple. All you need to do is earn 5 stars. It's so simple, right?
But there's a catch. If you're on a lower league, you can easily earn the 5-stars but your bonus isn't that great. That's a problem.
On the other hand, if you're on a higher league, it's god-damn hard to earn 5-stars, but your bonus amount? Heavenly. 😉
So what do I recommend? I'm telling you why I choose to be in the lower league level. This is the exact strategy that I learned myself and this works wonders for me. Wanna see my resources? See the screenshot below.
Even my Treasury is full. I can't receive any more bonus now! 🙁 Let me tell you the exact method I used to max out my storage and treasury!
Method 1: Town Hall Sniping
You're searching to attack someone and you find the Town Hall outside the base. Doesn't that happen very often if you're in a lower league? Yeah, I know. I find them all the time.
If you snipe down the Town Hall, you just earned one quick star. How cool is that? 😛 That's what I usually do if I come across such a base.
I will also reveal my no. 1 army for farming like a beast. Your elixir cost will be low and your storage will thank me for this.
So, found a TH outside the base? Snipe it down, b***h! 😂
If the TH is outside the defense range, I will usually use my Barbarian King.
Method 2: Dead Bases
If you're in the Silver league, you will likely find many inactive bases. So, what are the dead bases? 😛 These are inactive bases and the owner doesn't login to his account anymore.
You will usually find the collectors are full and many skeleton graves. This is because the owner hasn't collected the resources and hasn't cleared the graves.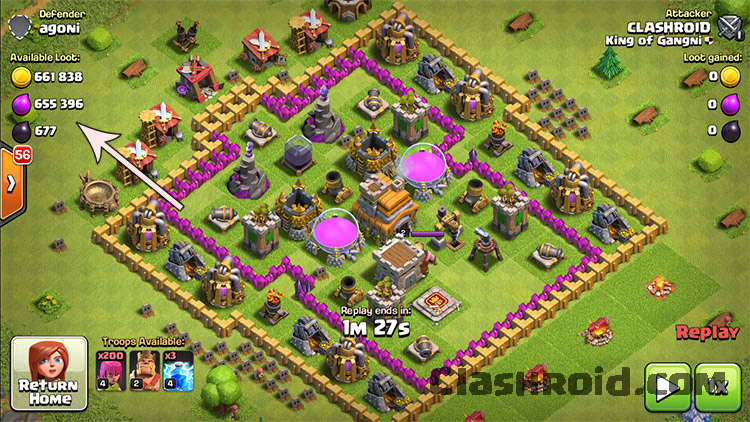 You can attack these base. You can check out one of my attacks just using 200 Archers and 3 spells.
Using this strategy, you can already farm huge loot easily. You will probably earn a star or two. 😉 This tactic doesn't help your Star Bonus directly but still, it's helping you collect as much as loot possible.
You can attack the dead bases to earn huge loot and also earn an extra star to help your Star Bonus farming.
Method 3: The 1-2 Attack Strategy
If you're spending all your elixir to train your troops, you won't farm effectively. This is where the 1-2 attack strategy comes into place. 😛
So, what's this exactly? It's simple. You need to split your army just for the sake of the Star Bonus. You will use one high-cost army and two low-cost armies (Archers and spells).
Here's the army composition.
High-cost Army: Use the popular Giant Healer strategy if you're under TH 7. If you're in Town Hall 7 or higher, use 10 Dragons and 2 Rage spells and one Healing spell.
Low-cost Army: It's time to use the cheap method – Archers and Lightning spells! Bim-bada-boom! 😛 I use 200 Archers and 3 Lightning spells. You can also use the OG BARCH attack strategy.
Conclusion
Now, let me tell you. It's all about earning 5-stars every single day. Don't worry if you miss your 24 hours, your Star Bonus will stack up.
This means if you couldn't earn the 5-stars, don't worry. The next day, you will have two Star Bonus available. If you miss the second day, you will have three bonus, and so on. 😀
This is what makes the Star Bonus farming so effective. This is why I attack dead bases using Archers for getting huge loot. 😉 I don't worry about earning the stars because it's going nowhere.
That's all about my number one strategy for farming like a beast using the Clash of Clans Star Bonus. Talking about results? See some of the screenshots, hehe. 😂
Found this helpful? Share this! Write your comments below if you have anything to say! 😉